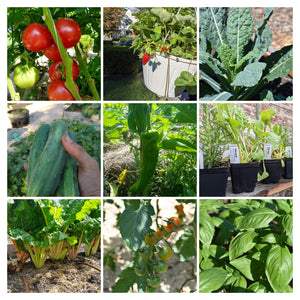 Ultimate Kitchen Garden
Sale price Price $165.00 Regular price
The Ultimate Kitchen Garden is easily our best value with over $186 worth of veggies and herbs. Also included with the package is a planting guide and map, providing advice on how to space plants for the best gardening results. Its like a mini-consult included in the bundle for free!

Get setup for success with this garden-ready bundle of our best sellers. These are a the varieties that I most often recommend and love to grow myself. These vegetables and herbs make up the foundation of a really great garden!

Containing 30+ plants the Ultimate Kitchen Garden is big enough to feed a family all summer long! It will almost fill up two 4 foot by 8 foot raised beds.

In here you will find:
- 1 Strawberry Basket
- 2 Sungold Cherry Tomatoes
- 2 Rose de Burne Tomatoes
- 3 Shishito Peppers
- 2 Rosemary
- 4 Rainbow Chard
- 3 Italian Parsley
- 6 Mixed lettuce heads
- 2 Cucumbers
- 1 Zucchini
- 1 Watermelon
- 4 Basil
- 2 Kale

Order now and the Ultimate Kitchen Garden will be delivered to whoever redeems this gift card in May as soon as the plants will do their best outdoors.

We'll honor this gift card for up to 3 years from purchase - we'll do our best to keep the same variety of crops, though availability might change down the line.