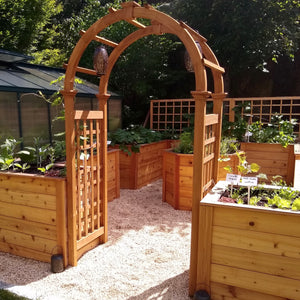 Homegrown
Garden Beds - Designs and Builds
Build the garden of your dreams!
Do you want to start a garden or expand your current one and are unsure of where to start? Building garden beds can feel like a commitment for years to come, but you can build with confidence.  

I've had the chance to grow in many different types of gardens beds over the years -from backyard lawns converted to tomatoes all the way to wheelchair accessible raised bed designs. The right design will make your garden easier for you to grow in, look wonderful and blend easily into your house and current gardens. 
We'll work together to ensure that you get a garden that meets all your needs and will look great doing so. I will do everything from evaluating your space to designing a garden layout right up to building raised beds, trellises and containers. 
Fill out the form to the left to arrange for chance to sit down and discuss exactly what your dreaming of!
Please use the contact form below to arrange a garden visit to discuss your goals and how we can help.